The digital world is expanding rapidly. Just within an hour, approximately 1,000 new users are joining WordPress. Nowadays, WordPress has become the ultimate choice of web developers and bloggers. According to the latest statistics, there are almost 75 million websites powered by WordPress. Almost 409 million people are using WordPress on a monthly basis. As we all know that technology is an ever-changing medium and with the passage of every day something new is being created, same goes to WordPress. A lot of new features have been introduced just within this year, and it is our job as professional White Label web designers to keep track of these trends. Here are some effective and innovative design methods to make your WordPress site standout.
Source: (https://thecustomizewindows.com/wp-content/uploads/2016/09/ICANN%E2%80%99s-New-Domain-Name-Transfer-Policy.png)
A standout website must have a standout domain. You need to select a marketable or a branded domain name for your website. Your name has to be eye-catching and something ravishing so people can easily associate themselves with your business. Association of a large number of people with your business will definitely make your WordPress website stand out. Make sure that you are not duplicating the brand name of your competitors because copying others will not help you. Just select a simple but interesting domain name for your business.
Choose a Theme Enhanced by White Label Designers
Source: (https://www.yeahcan.com/wp-content/uploads/2015/01/Port-Websites-Berlin.png)
If you are new to WordPress and you want to create a fancy website but you are confused, then go with a custom theme. You can choose thousands of custom and eye-catching themes for your business. But here is the trick, you don't need to choose the fanciest themes and layouts for your business. You need to choose a theme that is more suitable for your business and may describe the nature of your business. The best combination will make your WordPress website stand out. Apart from that, you need to know that charisma and the significance to your brand are not enough for your WordPress theme.
Your theme must be quick to respond across all devices. If someone is trying to open your website on his or her mobile device and find that it was not formatted properly and not supportive. That's why the user friendly and responsive theme is very important to make a website stand out.
Source: (http://pravu.in/images/logo-design-trivandrum.png)
Never ever underestimate the power of an effective logo. The logo is the one true competitive advantage that can create the brand awareness for your business in the market. If you want to make a standout WordPress website for your business, then start with a creative logo. This will add quality to your WordPress website. The logo shows the slogan of your business and your slogan sets the tone for your future success. A professional looking logo can be created by putting attention to detail, by selecting the fonts and colors carefully. A quality logos merges with your site's design and make it stand out.
Source: (https://bdn-data.s3.amazonaws.com/uploads/2017/03/Social-Media-Management-header-coursestorm-600×313.png)
In order to make your WordPress website and business stand out, utilize the power of social media. Link your business to the social media platforms like facebook, twitter, Instagram and etc. This will generate the unlimited traffic for your WordPress website. Nowadays, social media has emerged as the most powerful tool and no one can deny the effectiveness and importance of social media. So you should capitalize on it.
Source: (https://content.linkedin.com/content/dam/brand/site/img/color/color-palette-order.png)
Crate a mind-blowing color scheme for your website in order to make your website unique. Change the design and colors of your website. This is the unique method that attracts the user. You can find many themes with customized colors, just select any one of them. If you are confused, then use automatic theme optimizer.
Source: (http://gpm.com.ph/wp-content/uploads/2013/04/2layouts.jpg)
It will be better for you to remove the slide bars and all the unnecessary things from your WordPress website. Go with full width, use the full width, WordPress themes will provide you the options to get rid of these bars and make use of full width.
Content Creation and Changing in Fonts
Source: (https://www.navegabem.com/images/slideshow/content-creation.jpg)
Content is the boss no matter if you are a small business or business tycoon. In order to stand out, you have to create unique content. I personally advise you to hire a professional writer and ask him to create flawless content with perfect grammar. Once you have published the right content, then your half task is done. Now use multiple fancy font styles and colors that are available. A quality content will definitely improve your performance.
Source: (https://mir-s3-cdn-cf.behance.net/project_modules/disp/09127918960041.562d24d508d3e.png)
Changing the dimensions and other elements can make your WordPress website unique. As we all know that these little tasks can be very hectic, but they are equally effective. You can increase or decrease the height of your header according to your need. You can also increase or decrease the width of your sidebars, this will make your website site more engaging and eye-catching. In addition to that, you can add or remove or shift the key elements according to your requirements.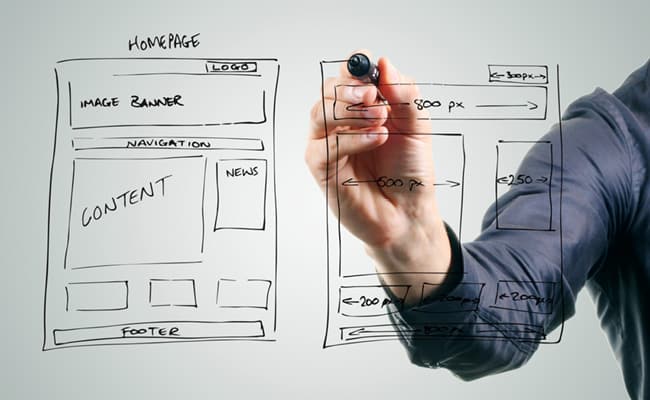 Source: (http://itblackspot.com.au/wp-content/uploads/2017/05/website-design.jpg)
Custom homepages are very effective for making a standout WordPress website, and White label web designs focus heavily on this aspect of the layout. You can use the automatic page builder in order to make the changes in your home page according to your desire. Be consistent with your techniques as consistency is a gateway to success. Your home page should be responsive.
Source: (http://mediumfour.com/wp-content/uploads/2015/12/5-Web-Design-Tricks-to-Make-Your-Website-SEO-Friendly.jpg)
The single most important method of making a standout WordPress method is Search Engine Optimization, hire a professional or a team of professionals to optimize your website. Search Engine Optimization includes backlinking, link building and content writing. You have to publish interesting content and build strong internal and external links for your website. Build organic backlinks and see your ranking going up. Be careful and do not use duplicate content and duplicate links. A user-friendly web design and SEO is the combination that is very important for success and can generate high online traffic.
Author Bio:
Harshal Shah is the CEO and Founder of Elsner Technologies Pvt Ltd., a global IT consulting firm providing Professional SEO services, App & Web development solutions. He is a tech evangelist with a reputation to provide optimum solutions for business automation and solving real-life problems with the power of IT.