When working independently, it is very common for most of the work to be done at home. However, it is clear that this does not mean working from your bed or on the kitchen table. So, how to make working at home comfortable? In this post, I encourage you to follow some tips for creating a successful home office and some very interesting ideas for finding space.
THE REASONS WHY, IT IS IMPORTANT TO HAVE A WORK SPACE:
Because it's a way of separating work and home;
Because it's a place to have everything you need for the job;
Because it helps to create a professional image;
And because it will promote your concentration.
1. FIND THE RIGHT SPACE 
It is essential to find a suitable location for your office. If you do not have an empty room, you need to find an exclusive space for your work. If possible, the chosen room should have an outside window with plenty of natural light . It may also be advantageous for the office to be located near the front door. In this way, you can separate your personal life from your professional life and prevent your customers (if they come to your home) from wandering around your home to get to your office.
2. MAKE THE MOST OF SMALL PARTS
A simple, conveniently attached board can be used as a desk for a mid-size laptop. Note that this proposal will only be valid if you do not need a large number of work accessories.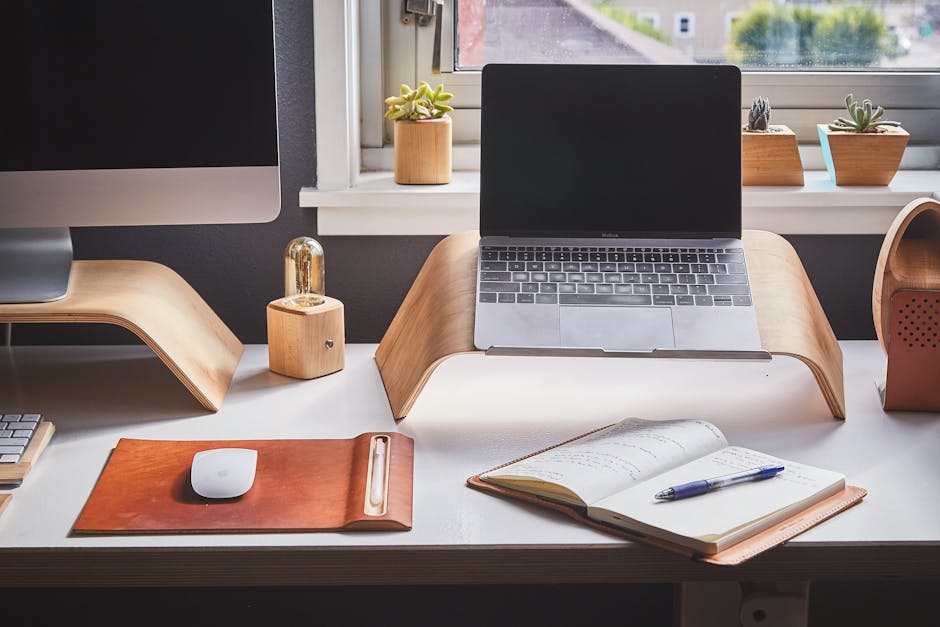 3. TO ISOLATE IN SEARCH OF CONCENTRATION
If you live with other people, especially young children, you should make sure they know that your office is not a place to play. You can not focus on your work and produce quality work if your children are running around you or if someone is listening to loud music in the same room. Placing a thick curtain or glass partitions can help eliminate noise.
4. CHOOSING THE RIGHT FURNITURE
Keep in mind that working several hours a day without the proper chair, furniture, or lighting can cause back problems, eye fatigue, or carpal tunnel syndrome. A professional chair, a desk at the right height, or accessories such as a footrest, lumbar support or a small pillow are key elements.
Your desk should be big enough and should have built-in drawers where you can store your documents. Some prefer L-shaped desks that provide a computer zone, a printer and other electronic devices, and another area for paper or books.
The chair must be ergonomic, durable and safe . It must provide you with adequate support for your back, shoulders and arms, and you should be able to rest your feet comfortably on the floor. Chairs with wheels are a better choice than fixed chairs.
5. ENJOY NATURAL LIGHTING
If your office has a source of natural light, it's better. It has been proven to be 80% more energy efficient than regular bulbs, giving your mood a big boost . If you do not have natural lighting, opt for LED lighting, more efficient and similar to the sunlight.
6. PLANTS FOR A GREEN OFFICE
Remember that including plants in your work space reduces stress,  increases your potential for innovation and encourages creativity.
7. TIDY DESK, TIDY MIND
Sometimes you will be so busy that you forget to put away your desk. You should take a few minutes a day to sort out those papers and notes that you will not use anytime soon.
For a tidy work space, storage areas are essential. Shelves are a great investment and if you want to add a touch of color to your desk, you can opt for design boxes that are a good choice for storing all kinds of stationary from Office National that can make your desk messy.
8. HAVE GOOD EQUIPMENT
Your goal of being effective and productive can be truncated if you have obsolete technology and slower or slower technology than you need. Periodically check the status of your PC, modem, printer, cables, keypad or other technological equipment you use regularly, comparing the best offers on the market and the features you need. Remember that good equipment is an investment and not an expense.
9. BEAUTIFY YOUR OFFICE
Your work space does not have to be a dark and boring place. Giving life is simple and it's something you really should do to make your office a pleasant place to live . Place plants, hang colorful pictures on the walls or invest in a beautiful desk lamp.